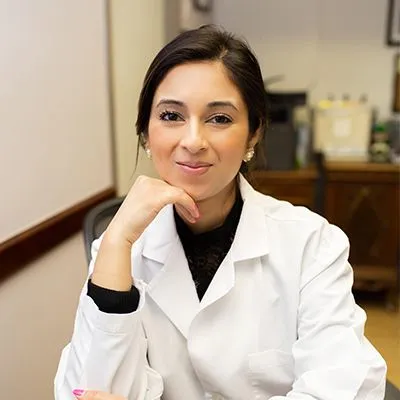 Ajmera Dentistry
Hemali M Ajmera, DDS
Dentist located in Queens, Woodside, NY
Dental crowns are more common than you might think. In fact, the number of Americans with dental crowns is on the rise. According to the American Academy of Implant Dentistry, 15 million people in the United States have crowns put in place of missing teeth. Hemali Ajmera, DDS, and the dentists at Ajmera Dentistry are experienced professionals, so if you think you may need a crown, book an appointment online or call today. Ajmera Dentistry is conveniently located in Woodside, Queens, New York.
Crowns & Veneers Q & A
What is a dental crown?
A crown is a piece of metal, plastic, ceramic, or porcelain that covers a damaged tooth. It's crafted to look like the original tooth and can strengthen the tooth and restore its appearance. The crown goes over the original tooth and is bonded into place, so the tooth is completely covered, from the gum line up.
Are dental crowns a good fit for me?
There are a variety of reasons the experienced dentists at Ajmera Dentistry may suggest a crown. A crown can cover a dark or misshapen tooth or a dental implant.
Crowns are more than cosmetic solutions. They can cover and protect a weak or cracked natural tooth. Teeth with large fillings and little natural tooth remaining are especially susceptible to breaking, but a crown can prevent this from happening.
Dental crowns can restore your smile's beauty. They can also be a reliable solution for teeth that need strengthening as a result of severe decay, cracks, fractures, or fillings.
What are the different types of crowns?
Dental crowns can be constructed from many materials, including:
Stainless steel
Gold or another alloy
Porcelain fused to metal
Resin
Ceramic
The choice of material depends on multiple factors. For instance, stainless steel is the most common material for temporary crowns. Prefabricated stainless steel crowns are a frequent choice for children who have decayed baby teeth and need crowns.
Metal crowns are sturdy and able to withstand the force of chewing and eating, but due to their striking color, they're usually reserved for use in the back of the mouth.
Porcelain fused to metal crowns are closer in appearance to natural teeth than stainless steel crowns; however, they do have some disadvantages. For example, the metal portion of the crown might show as a dark line close to the gums. The opposing teeth may also experience more wear than they would with another type of crown.
All-ceramic crowns are the best choice for patients who have metal sensitivities. All resin crowns are one of the most affordable crown options, but they're also more susceptible to cracking.
What are the steps in a dental crown procedure?
A majority of the time, a minimum of two appointments is required to complete a dental crown procedure. At the first appointment, you'll have X-rays taken so that your dental professional at Ajmera Dentistry can evaluate the condition of the tooth in question.
Next, the dentist will administer anesthesia to numb the tooth and surrounding tissues. The tooth is built up or filed down so that the crown will fit snugly. After, the dentist will make an impression of your teeth, which will be sent to the dental lab and used to construct a custom crown. Your dentist will place a temporary crown over your tooth until the permanent crown is completed.
Getting a dental crown can be a simple, easy process. To discuss your crown options, contact the experienced team at Ajmera Dentistry or make an appointment online.